Glass Jug Lamps
Pottery Barn inspired and tutorials from an amalgam of sites, including
The Inspired Room
,
The Concrete Cottage
, etc.
2 free carboys, courtesy of friends
1 6ft clear lamp cord
2 lamp sockets
2 corks
2 threaded nipples
1 extra plug
2 harps (returned)
2 burlap lamp shades from World Market
Tools: wire cutter/stripper, hot glue gun, drill, pliers
First J cleaned the glass jugs, though i am realizing maybe they need a second wash...
Then we started fooling around with the hardware aspect. Please note of caution I am not an electrician - I have no idea what I am doing - sometimes I feel that it is just happenstance and luck that my projects work out - so proceed at your own risk. The ideal situation would be to thread wire through cork, threaded nipple, bottom of lamp socket, then follow directions to shape into pretzel loop to avoid accidental removal, attach and tighten screws to middle part of lamp socket, fit three pieces of lamp socket together then attach to threaded nipple, then screw threaded nipple into cork. I left a hole on the side of the cork as well since I decided I like the way it looked better with the cord on the outside than on the inside. I trialed a linen shade from
Lowes
and liked it ok with the light off, but did not like it with the lamp on, so back they went with the harps that were necessary for them. Instead I ended up with burlap shades from
World Market
and loved them. I decided to cut the lamp cord in half to save money and purchased a cheap replacement plug that was incredibly easy to use.
Thrift store lamp
$8 dollar lamp from
Southern Thrift
Target
gray linen shade
$3 lamp socket replacement
It said that it had been test and worked, but was kind of fritzy so with out new found electrical proficiency we replaced the socket hooray reliable and beautiful lamp after a quick wipe down with magic eraser sponge and new lamp shade.
Ceiling Fan
So I have
Restoration Hardware
envy too, but at $800 ticket price it totally wasn't happening.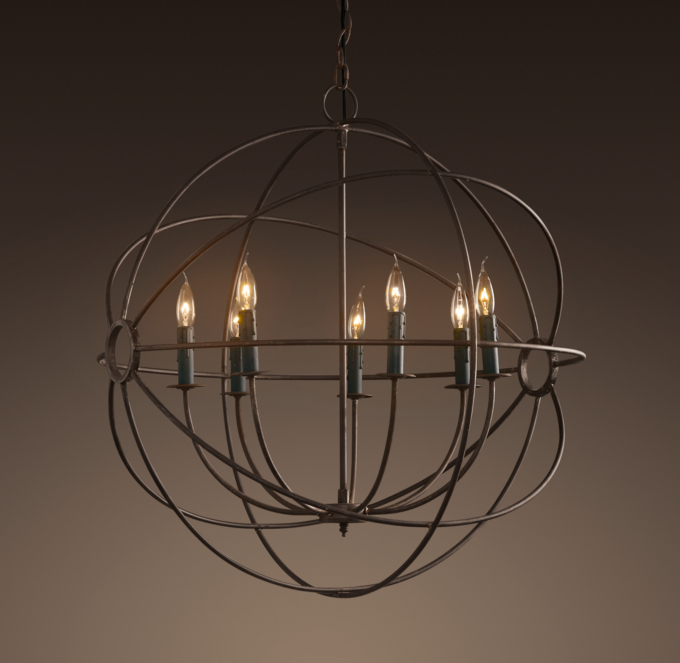 But I do have a terribly ugly ceiling fan and light that needed some attention, so when I saw tutorials from
Vintage Revival
s and
Addicted2Decorating
. I was initially really interested in the tutorial from
This Old House,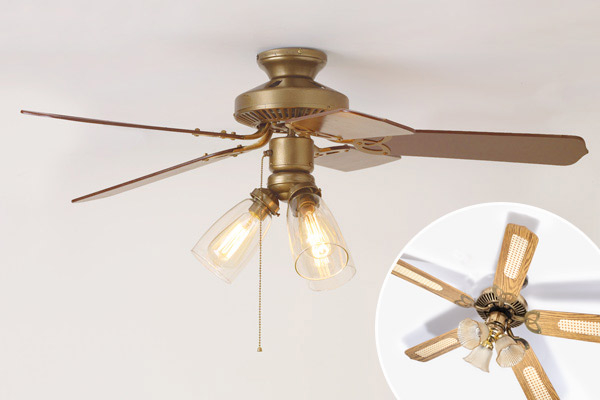 but didn't want to spend $50 in Edison bulbs, though I do love them.
Rustoleum
oil rubbed bronze spray paint (which I can now confirm that Walmart has the cheapest price)
2 14" metal hanging flower baskets from
lowes
on sale for $5 each!
40 w clear round bulbs with standard size thread
new light/fan chains
Tools: screwdrivers, electrical tape, etc.
My husband was incredibly nice to remove and clean ceiling fan for me. I disassembled the fan blades and rotated them in preference of the plain side. We had to take some pieces of the light fixture apart in order to attach the first flower basket upside down with chains removed. Then I used the hooks that held the chains to attach the second flower basket to the first, after of course putting the light back together. I spray painted the whole thing Oil Rubber Bronze - making sure not to forget any screws not currently attached but that would be visible. Then we reattached the wiring and hung it back up. J had to perform a lot of tightening to improve how wobbly the light fixture was before we took it down, but it worked! Then we added the bulbs and sat back to admire our handy work! I felt a little uncertain if it would work, but I am so glad that we tried it out because I love it.